Best Defences in the NFL
Whether it be some team that you know well or some that you hardly know- there is a balance between them. Which ones might seem the best to you?
Minnesota Vikings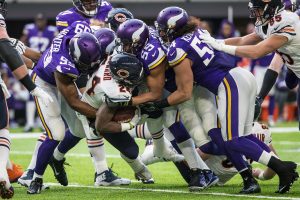 Minnesota Vikings already hold the position of the top defense. They recently signed Sheldon Richardson for a whole year. This makes Minnesota Vikings a contender for the Super Bowl. This team will rival Philadelphia and Jacksonville. Their linebacker is what could use a little more depth. This is how the top NFL defense is being created and maintained. Going from best to the very best, Vikings have made a long-term deal with Eric Kendricks. This means that there is no going back and the deal is the best defense or nothing. We will follow this closely and spot any changes that might happen throughout 2018.

Jacksonville Jaguars

Their rank is second. This is not a poor ranking though. There are many reasons to be scared of Jaguars if they were to show up against you. They are bringing back 14 defenders from their last season. There have been some team changes that bring even more strength to the foreground. They have the best cornerback tandem (Ramsey and Bouye). Overall, the team looks ready to stay focused until the very end. No matter how intense the games get, their coach made a priority to keep the team focused and to not let them relax. They really have to push forward for the maximum result. Their 2018 looks externally good and it is only set to become even better.

Denver Broncos

Broncos are third by ranking. They have grown their defenses in the last few seasons. They have improved their defenses for sure but in 2018 they have to continue that trend to keep their spot and get closer to the second in ranking. The changes they made recently are considered positive by the sports journalists and big results might be in store for the team. Broncos will not give up their spot easily and will constantly prey upon the second in rankings. Their strategy and combination might be the winning one finally.

Philadelphia Eagles

They are fourth in rankings. They had some injuries this offseason and also have imported a few great players (Bennett and Ngata). But both of them are dealing with some injuries from last year (2017) and they are also in fact in the last stages of their careers. So their performance might be questionable but there are definitely enough good players to show that Eagles are still among the elite.

These are some of the teams but the list is not over by any means. The likes of Pittsburgh Steelers and Los Angeles Rams are certainly very appealing teams. They are ready to jump those at the top at any moment. The year 2018 will be a year with many possible endings and we expect an evolution in defense of all teams. We will see how they clash together and who comes out on the top. Surprises are always possible at the top of the rankings.