How to make Going to the Game more Exciting
Should you attend the game physically or should you stay at home and watch the game on the television? Every fan asks this question, and the answer is yes or no depending on the game, price, personal time management and other details. People also visit games in groups more often than not.

On that note, let's take a look at some stats. There's 4.5% of people that visit the games less than they did 5 years ago. While television viewership of the game is up 15%. This clearly says something about the subject. As some people believe, technology is to blame. You can now buy great huge TV's with amazing sound and picture quality. Plus, you have the comfort of your own bathroom, fridge full of things you like, free parking and you can instantly go to sleep after the game if you wish, to be rested for the upcoming day.

It is time to make going to the game more exciting. Here are a few things they should improve at the stadiums.

Show People the Game Stats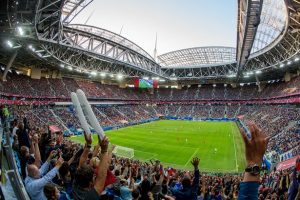 Current and future stadiums should have a way of showing the stats and analysis just as much as people can see them on the television. This can be done by making use of people's smartphones so they can have a just as good or even better stats insight. This is also where some TV user interface can be replicated for the better experience if you are already there at the stadium. At the moment, people at the stadium get none of the TV enhancements. It is time for this to change.

Let Visitors Hear the Players on the Field as Their Leaders Plan The Strategy

Instead of waiting at the halftime where nothing is happening at the stadium, you should hear the stuff that is going on with the players. They are most certainly talking about their future strategies. There is a camera and a microphone in there, TV people can hear anything, so why can't those at the game too? This should be done via the smartphones' app.

Let Viewers get Close to the Players

People at the stadium should be able to go much closer to the players and the action itself. While the camera follows all the players, zooms in on them for the purpose of broadcasting on the TV and shows replays with good commentary- all of these features should be transferred to the stadium as well. This is so people who are there in person can have even more benefit for their ticket price. Steps like these should be encouraged and promoted. While many stadiums are being wired for these kinds of improvements, others are still on the waiting list.

Bringing this theme up more and more in the future might result in a lot of improvements for the people who spent their valuable time and money to go and see their game in person instead of the TV screen. And we hope this situation will continue to improve in the future.