Pittsburgh Penguins Signed a Plethora of Deals for Next Season
Pittsburgh Penguins general manager Jim Rutherford has been on a roll on the trade market lately, having made quite a few additions to the team in preparation for the 2018-19 campaign.
This was actually an anticipated move in the hockey world, so let's see whom the manager decided to bring to the team.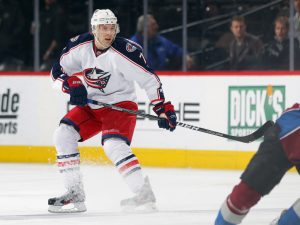 First off, 31-year-old Jack Johnson, who played for the Columbus Blue Jackets for the past two seasons. Penguins brought him in on a five-year contract, though Johnson's recent performance was not so brilliant compared to his teammates.
Jack Johnson is a two-way defenseman, and his play style is defined by a combination of physical prowess and offensive capabilities. He will be the fourth left-handed defenseman in the team, beside Oleksiak, Brian Dumoulin and Olli Maatta. And although he failed to shine at Columbus Blue Jackets, fans are confident the move will also mark a change in his performance.
Another player who is heading to the Penguins for the next season is former Boston College goaltender John Muse. He agreed to a one-year, two-way contract with the Pittsburgh Penguins and he will probably have to divide his attention and efforts between Wi lkes-Barre/Scranton Penguins in AHL and Wheeling Nailers (ECHL) in the following months.
Many have said that last season was the best so far in Muse's professional career, and he has big potential and good prospects, but he's unlikely to have NHL call-ups this season, though he will definitely get some minor league action.
Forty-one-year old forward Matt Cullen has also signed a one-year contract with the Pittsburgh Penguins.  He agreed to return for the next season on a $650,000 deal, after previously playing on similar contracts with the Penguins for the past three seasons.
Cullen is said to have considered retiring, but it seems that he is up for another season. And everyone is thankful for his decision, seeing how he helped the team win the Stanley Cup title in 2016 and 2017.
The hockey player has amassed an impressive track record during his career, as he played in 1,445 NHL games, managing to record 259 goals and 452 assists. Besides the two Stanley Cups he won with the Penguins, he also won one with the Hurricanes in 2006.
Finally, Jimmy Hayes has also signed a one-year, two-way contract with the Pittsburgh Penguins, just like Muse. Previously, the right winger played for Boston Bruins, Chicago Blackhawks, New Jersey Devils and Florida Panthers. If you ask us, we would say Hayes is an odd pick, given his performance in the last two seasons was rather lackluster.
Other two additions to the team are defensemen Stefan Elliott and Zach Trotman, and word on the street has it that Rutherford is not done trading yet.