The Biggest World Class Stars Barcelona Could Sign This Summer
FC Barcelona management are set to breathe new life into the team this summer, with rumors indicating that they could bring in new talent like Paul Pogba and Kylian Mbappe, among others. And considering Barcelona had a really good domestic campaign in the 2017-18 season, taking home trophy after trophy, including the La Liga title and La Copa Del Rey, who wouldn't want to play for such a successful team?

Although they lost their European dominance, the team is still going strong at home, and now it seems that Ernesto Valverde and the rest of the management are working hard on the trading market to renew the roster ahead of the next season. They are eyeing at least five Premier League superstars, and below we will look at the prospects for some of them.

Paul Pogba has been rumored to consider a move to the Nou Camp if the Catalonia-based team are willing to pay €100 million for him. The Manchester United midfielder and France star has had a great summer so far, with an impressive performance at the World Cup, where his national team has reached the semi-finals and are set to face Belgium next.
Many are saying that Pogba would be the perfect footballer to replace Andres Iniesta, so let's just hope Barcelona do pay up the rumored €100M.

Another French footballer who could join Barcelona next season is 19-year-old talent Kylian Mbappe, who is currently playing for PSG and is also being courted by Real Madrid.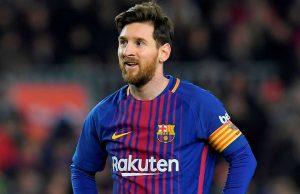 According to reports, Lionel Messi is very keen on having Mbappe as a partner in attack at the Nou Camp next season, but his team will have to beat rivals Real Madrid's offer in order to sign the Ligue 1 superstar. And it seems PSG are asking for big money if they are to let Mbappe leave the club – €200 million to be more precise – considering the player's huge potential.

Just as Pogba, Mbappe has been one of the key performers for the French national team at this summer's World Cup, having scored the decisive goals against both Argentina and Peru.
Eden Hazard from Chelsea FC is another high-profile player that Barcelona could bring to the squad in order to fill the void left behind by Neymar's departure. The Belgian attacker has all the necessary qualities to play alongside Luis Suarez and Lionel Messi.

For the midfielder position left vacant by Andres Iniesta, Barcelona are also considering Tottenham Hotspur player Christian Eriksen, who is one of the most skilled midfielders in Europe at the moment. As for the financial part, it seems that Barcelona will have to pay £79 million for the London-based team to let Eriksen go.

And Eriksen is not the only Tottenham Hotspur star Barcelona could snatch up this summer. Toby Alderweireld is a top option for the defender position, considering Pique is nearing the age of retirement and the team needs a backup solution. Alderweireld has played more than 80 matches for Belgium and also represented it at the recent 2018 FIFA World Cup.